Enjoy The Fragrance Without The Flame
Candle Warmers' patented lamps and lanterns melt a candle from the top down to safely release its fragrance.
"I absolutely love the candle/lamp. I have had one for almost three months. We burn it almost every night and it still looks almost new. The scent is great and lasts. I would recommend this product to anyone. It was well worth the price."
― StephD
"I am very pleased with this purchase. This is the second one I have bought. They are very aromatic and I like that you can also use standard candles with this lamp."
― txtrue
Discover a Great Way to Enjoy Your Favourite Scented Candle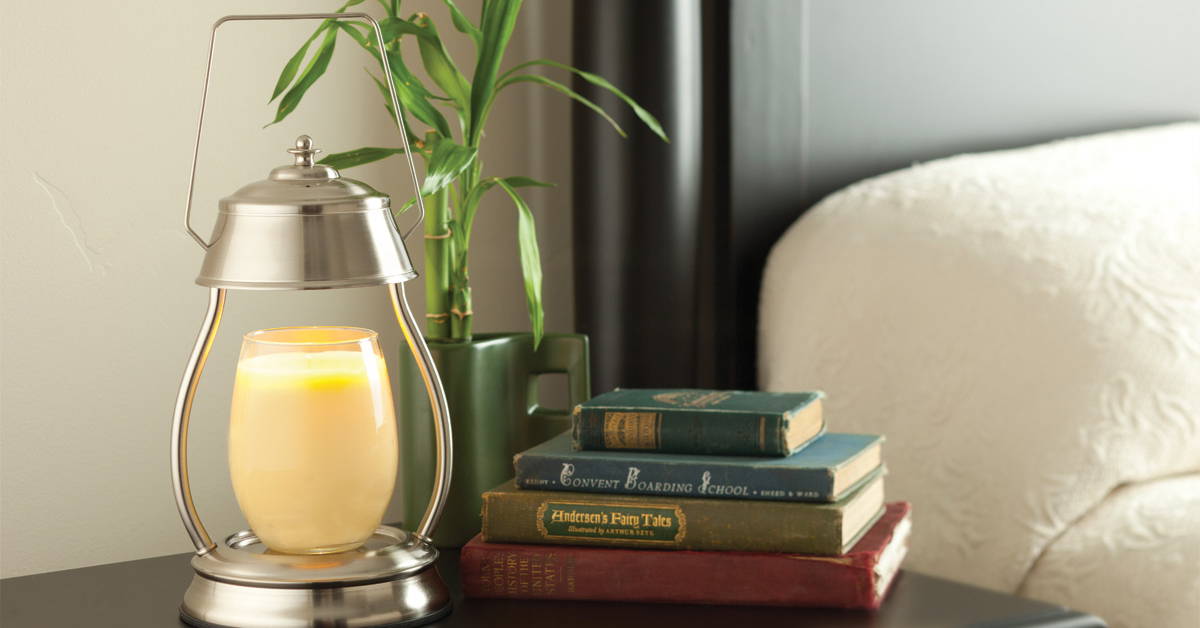 No burning.
No soot or other pollutants.
Your favourite candle releases a cleaner, stronger fragrance that lasts up to twice as long compared to burning the candle.
Hurricane Lanterns
A modern spin on a classic style with elegant curved bars, and creating the appearance of a lit candle.
15.5cm (D) by 34.2cm (H)
Aurora Lamps
A curvy stem and classic shape make up this versatile lamp, adding warmth and light to any room.
20cm (L) by 13.5cm (W) by 26cm (H)
Scroll Lanterns
The Scroll Lantern features elegant cut-outs that cast an intricate pattern when lit.
15.2cm (L) by 15.2cm (W) by 25.2cm (H)
Garden Lanterns
The Garden Lantern creates a soft ambiance when the bulb is lit.
16.7cm (L) by 16.7cm (W) by 34.4cm (H)
Frequently Asked Questions
Where is Candle Warmer from?
Our candle warmers are produced by Candle Warmers, Etc. - an American brand headquartered in Utah that holds the patent for the innovative top-down warming technology. Candle Warmers, Etc.'s candle warmers are made in China. We have been Candle Warmers, Etc.'s exclusive distributor in Singapore, Malaysia and Hong Kong since 2012.

How does the Candle Warmer actually work?
All top-down Candle Warmers featured on this page use a halogen bulb to warm a jar candle from the top down, releasing the fragrance as the wax melts. Unlike burning a candle, warming a candle will not cause the wax to burn off. Over time as the candle is heated repeatedly, the fragrance will evaporate eventually and the scent will be become weaker and weaker. When that happens, simply pour the melted wax into an empty container and discard. The rest of the unmelted candle is still good to use and still holds fragrance.
What's the dimensions of the Candle Warmer?
Hurricane: 15.5cm wide (diameter) and 34.2cm tall (height)
Aurora: 20cm long (length), 13.5cm wide (width) and 26cm tall (height)
Scroll: 15.2cm long (length), 15.2cm wide (width) and 25.2cm tall (height)
Garden: 16.7cm long (length), 16.7cm wide (width) and 34.4cm tall (height)

Does the Candle Warmer work only with Yankee Candle?
The Hurricane, Scroll and Garden lanterns as well as the Aurora lamps work very well with Yankee Candle large jar candles, medium jar candles and large 2-wick tumbler candles. However the candle warmers are designed to work well with most 16-oz an 22-oz jar candles, not just Yankee Candle.

How long does the bulb last?
Each bulb lasts between 1,000 to 1,500 hours. Turning the bulb on and off within a five minute period will shorten the life of the bulb. Each Candle Warmer comes with two bulbs - one fitted on the lantern/lamp, and another replacement bulb.

Where may I buy a replacement bulb?
You may purchase a Candle Warmers NP5 replacement bulb on our website. You may also buy one from a Yankee Candle store. You will not be able to purchase the replacement bulb from a regular hardware store. The NP5 bulb is designed specially with a narrow beam that is focused directly on the candle. Bulbs that are found in the hardware stores have a beam with a wider focus and will not melt the candle.

Does the Candle Warmer come with a warranty?
Yes the Candle Warmer comes with a 1-year warranty. We warrant that all Candle Warmers purchased from us are free from defects in materials and workmanship under normal household use for a period of one year from the date of purchase. This warranty does not cover warming bulbs, exterior or interior finish or damage caused by misuse, accident, or negligence. A purchase receipt or other proof of date of original purchase before warranty service is rendered.
Is this promotion available in-store?
Yes this promotion is available in-store. You may purchase the original Candle Warmers and enjoy the free Yankee Candle promotion at our Yankee Candle stores.
We are located at:
Yankee Candle eslite Cityplaza
Basement 2 18 Tai Koo Shing Rd, Quarry Bay, Hong Kong
Mon – Sun: 10:00am to 10:00pm
Phone: +852 3419 1121
Yankee Candle The ONE
Unit L213 100 Nathan Rd, Tsim Sha Tsui, Kowloon
Mon – Sun: 11:30am to 9:30pm
Phone: +852 2321 4688
Yankee Candle Plaza Hollywood
Unit 299B 3 Lung Poon Street, Diamond Hill, Kowloon
Mon – Sun: 11:30am to 9:30pm
Phone: +852 2362 0908
Yankee Candle Citywalk
Unit UG17 1 Yeung Uk Rd, Tsuen Wan
Mon – Sun: 11:30am to 9:30pm
(Opens end June 2019)